SILSA National Training School
Why should I earn my CFAT Level II Fire Certification and Certified Fire Alarm Designer (CFAD) Level III Fire Certification?
ESA National Training School's CFAT Certification gives you a Road Map for Success in your career development by requiring applicants to meet stringent training and work experience requirements. They are earned and continuously maintained to help you develop your skills and knowledge. This is an alternative to the NICET requirement in the state of Washington. You will also earn L&I CEU's while earning your certification.
The NTS advantage over other certification programs is that our certifications are based on rigorous certification curriculum, field experience requirements, competency based testing and a personal recommendation to ensure that students meet core skills and knowledge. They validate your abilities to customers, supervisors, peers and potential employers.
How do I earn the CFAT Level II Fire?
Requirements to earn the Certified Alarm Technician (CAT) Level II Certification:
Must have held an ESA/NTS Certified Alarm Technician (CAT) Level 1 or higher (ESA/NTS or accredited) certificate for a minimum of 24 months or prove equal work history by work verification
Then successfully complete two additional courses of study within the previous five years:

Fire Alarm Installation Methods (FAIM)course, or the online equivalent, and pass the proctored multiple-choice examination
Life Safety Code (LSC)course or International Building Code (IBC) course and pass the proctored multiple-choice examination

Submit the

CFAT Certification Request Form

with the required documentation
How do I earn the CFAD Level III Fire?
Requirements to earn the Certified Fire Alarm Designer Certification:
Required Training and Certification: Applicants must hold an active Certified Fire Alarm Technician (CFAT) Certification, and have taken and passed the Professional Fire Alarm Designer (PFAD) Course.
Testing: Passed the Certified Fire Alarm Designer (CFAD) Exam. The cost for the exam is $135.00.The Certified Fire Alarm Designer (CFAD) Exam Study Guide is available through the WAESA website.
Work History form: outlines the required 60 months of work history in the field of fire alarm installation, inspection, testing, commissioning, project managing, plan preparation, or supervision.
Work History Verification: must be completed by company owner or company representative which provides proof of 60 months' work experience.
Personal Recommendation Form: must be completed by a professional who is familiar with the professionalism, ethical standards and technical abilities of the applicant. Examples of those that qualify to complete this form include: licensed professional engineers, registered land surveyors, certified fire engineers/designers, graduate engineers, scientists, senior
Submit the

CFAD Certification Request Form

with the required documentation
Let SILSA and NTS make things easier by purchasing a CERTIFICATION BUNDLE.
When you purchase a Certification Bundle you will automatically be registered in the courses required to earn the certification. This process will use automatically triggered emails to keep you on track and ensure you don't miss a step to earning the certification.
*The revised WAC is available at this link: https://apps.leg.wa.gov/wac/default.aspx?cite=51-54A-0907 Scroll to 907.10 at the bottom.
---

SILSA has partnered with NTS, ESA's National Training School in bringing excellent industry courses to Washington.
SILSA is proud to deliver these training opportunities. ESA/NTS courses are developed by industry professionals with in-depth experience in security integration; therefore, courses focus on practical skills relevant to the jobs and tasks of the installation professional.
The following courses have been approved for CEU's by the Washington Dept of L&I. Please view all courses at https://courses.esaweb.org/product-category/state-approvals/washington/
. . . . . . . . . . . . . . . . . . . . . . . . . . . . . .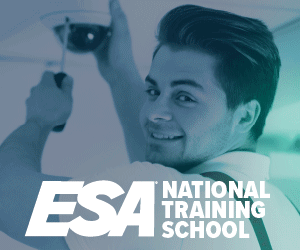 Online Courses –
CAT1
LSC
FAIM
CFAT Member Bundle (CAT1, FAIM, and LSC)
CFAT Non-Member Bundle (CAT1, FAIM, and LSC)
CEU Courses –
Basic Circuit Troubleshooting and Testing
Codes and Standard Refresher, including NEC
Job Safety and False Alarm Reduction
Troubleshooting Using Test Equipment
Troubleshooting, Service, and Maintenance Series
Residential Fire Alarm