Welcome to ESA of Washington (WAESA)

---
Why become a WAESA Member?
When you become a Regular Member, your dues support both our local Chapter and our National ESA.  Regular and Associate Member dues help support the day to day operation of the Association. This allows us to provide you, our members, with educational events, legislative, industry, and ordinance information and our youth scholarship program for the children of Police and Fire personnel.
Your membership gives you access to our members only page on our website which has information on governmental affairs both at the state and national level, new ordinance information, and important industry announcements, as well as trade discounts with other members!
Regular Membership is defined as follows – (Voting) shall be open to any individual, partnership, firm or corporation primarily and currently in the business of design, installation, maintenance and monitoring of burglar or fire alarm systems and in the possession of appropriate and current licenses and/or certificates as required by law. This membership includes membership in the Electronic Security Association (ESA). The Electronic Security Association of Washington (ESA of WA) is a chartered state association of ESA.
Associate Membership is defined as follow – (Voting) shall be an individual, partnership, school, firm or corporation who is engaged in supplying services or products to the industry or who is acceptable to the association but is not otherwise qualified for regular membership. This membership will enjoy the same privileges and voting rights as a regular membership.
The list of national benefits are listed here – the most important benefit being the liability insurance through Security Risk Retention Group or SAARG, with the lobby activities a close second.
Margaret, Heidi and the Board of Directors appreciate all your past support, and are looking forward to working with you in 2016
---
Important Information:
ESA of Washington Members – We are creating a new section for our Members only.  In this section you will find information on legislative issues that may affect our industry, and a white paper on the Sales Tax on Monitoring issue.  If there are other things you'd like to see in the Members only section, please let us know!  Send your ideas to info@waesa.org.
---

Who We Are
We are composed of 40+ members

We are THE #1 SOURCE of information for consumers

We facilitate the exchange of valuable industry information amongst our Membership

We promote & support legislation that directly benefits the public

We provide training and trade shows to keep abreast of the latest in technology

We promote professionalism in the fire and security industry
---
The Electronic Security Association of Washington
(formerly Washington Burglar & Fire Alarm Association)
is a chartered State Association of the national Electronic Security Association.
---
Our Mission Statement
To deliver the resources needed to promote professionalism, ethics, and technical expertise within the electronic life safety and security industry.
Vision Statement
Inspire Our Members to Be Industry Leaders
---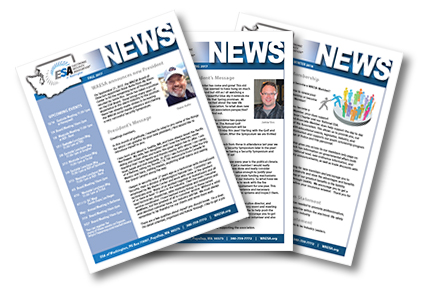 Advertise
We invite you to advertise in the ESA of Washington quarterly Newsletter. The advertising cost is $50 per issue, or $150 for 4 consecutive issues. Ads may be black & white or 4-color, provided to us in jpg or pdf format. Contact the WAESA office for more information, 360-739-7772 or info@waesa.org.
---

Thanks for your Support
We would like to thank our current Associate Members and Gem Partners who have supported WAESA over the years and we invite you to renew your membership for 2018. We are looking forward to a great year and encourage you to review the member benefits at http://www.esaweb.org/?page=AssocMbrOneSource, one of which is the liability insurance available through SAARG.
You're Invited To Join ESA of Washington (ESA of WA)
For those of you who are new to WAESA, we invite you to partner with us as well! There are many levels to choose from, including Gem Partners, who are featured on all marketing materials.  Please download the ESA of WA Membership Application (pdf) and/or the ESA of WA Associate Member Application & GEM Partnership (pdf)
Thank you all again for your past support, and we look forward to working with you in the new year!
ESA of Washington
PO Box 73087
Puyallup, WA 98373
Email: info@waesa.org
Phone: 360-739-7772
Become a Diamond Partner ($2,000)
Become an Emerald Partner ($1,500)
Become a Ruby Partner ($1,000)
---
Become a WAESA Associate Member ($195)
Golf Tournament Sponsorships ($250 to $550)