WAESA is now SILSA NW
We have evolved from WBFAA to WAESA and now SILSA
In 1985, the Washington Burglar and Fire Alarm Association was incorporated as a non-profit association in the State of Washington. We were a state charter chapter of NBFAA, the National Burglar and Fire Alarm Association. The purpose of the association (as it remains today) was to deliver the resources to promote Professionalism, Ethics, and Technical Expertise within the Electronic, Life Safety, and Security Industry.
Around 2010, NBFAA changed their name to the Electronic Security Association (ESA) and asked the state chapters to modify their name to evolve into the new name. We became WAESA, the Electronic Security Association of Washington.
In 2019, ESA decided that they no longer wanted to have state chapters and ended their relationship with each state chapter. At that time, they had filed a copyright on the name Electronic Security Association. With that copyright, we were required to change our name.
In May 2021, the WAESA Board of Directors voted to change our name. The Board entertained several different names and re-branded WAESA to SILSA NW – Security, Integration & Life Safety Association of the Northwest. We wanted our name to encompass the different facets of our industry and also a larger geographical foot print as we have members not only in Washington but in other states in the Northwest
What benefits does SILSA NW offer? Along with the SILSA NW Benefits (which include discounts on event registration, information on legislative issues, and access to The Northwest's premier educational events) the SILSA Board of Directors voted to maintain a relationship with ESA. This will enable SILSA NW the ability to offer our members a discount on all NTS classes, including CFAT, the state approved equivalent to the NICET II certification, and to offer a 10% discount on the SARRG Insurance Program. .
SILSA NW will continue to advocate for our industry. We will continue to promote strong relationships with the fire and police departments. We will continue to provide events that cover the most current issues in our industry.
---
Important Excise Tax Advisory
The Washington Department of Revenue has determined that alarm monitoring service is a Digital Automated Service and, therefore, subject to retail sales tax. This will be in effect on April 1, 2019.
The information can be found at: http://taxpedia.dor.wa.gov/documents/current%20eta/3189.pdf
History on the Monitoring Sales Tax Issue
In 2014 the DOR created ETA 3189.2014 proposing state sales tax on some forms of alarm monitoring deemed to be a Digital Automated Services. Three "Examples" of alarm monitoring were provided. One of the examples was an accurate description of traditional alarm monitoring, the other two were not. Example 3, which accurately described traditional alarm monitoring, excluded this service from retail sales tax.
Over the next several years DOR personnel performed audits on companies providing alarm monitoring services. Of the cases of which we are aware, and based on provisions of ETA 3189, 2/3rds of the audits determined alarm monitoring services not to be subject to sales tax, but rather service and other activities B&O tax. Four companies, however, were directed to begin collecting sales tax on their monitoring revenues, two of those companies were held liable for taxes for the past 4 years. All of these companies receive their alarm monitoring service from an Underwriters Laboratories listed monitoring facility.
All traditional alarm monitoring is provided by a regulated facility, a Central Station. For 95% of those facilities, the independent listing agency is Underwriters Laboratories (UL). As a result of the standardization required by UL, all alarm monitoring utilizes the same equipment, the same processes and procedures. Yet, individual auditors issued conflicting rulings regarding the taxability of these revenues.
Alarm monitoring is not an automated service but, rather, is fully dependent on the actions of the alarm operator to respond to the alarm signals received, determine the appropriate action required, make the necessary verification calls to responsible parties, dispatch first responders where appropriate, and make follow-up calls to responsible persons. All of this activity, the service, is performed by human activity, the alarm operator, primarily by telephone communication. It is not an automated procedure.
In December 2018 the DOR issued a revised ETA removing the previous examples that did not sustain their argument and also eliminating the one that correctly described and excluded alarm monitoring from retail sales tax.
Since, 2014, WAESA has been involved in conversations with the DOR. We have invited DOR officials to visit a central station (which they did) and we have had multiple meetings to explain the monitoring process to inform the DOR personnel that monitoring requires more than 50% of human effort to process the alarm signals. We presented a letter from UL and also other letters from a central station and a member who has managed 3 different central stations. These letters explained the amount of human effort to process a signal. The information was not enough to convince the DOR that monitoring should not be taxed as a DAS (Digital Automation Service) which is primarily an electronic service.
WAESA is continuing to pursue this issue through legislation. We have state representatives who have introduced a bill in the State House of Representatives that would exclude traditional alarm monitoring services from retail sales tax. That bill is currently in committee awaiting a hearing. Unfortunately, even if we are successful in getting this bill passed, it would not be effective until July1, 2019. At this point, you must start charging sales tax on your monitoring service invoices beginning April 1, 2019. Also remember that because of this, the B&O reporting classification is now retail and not a service. We will update you if and when we have any new information
The above legislative alert is made possible by WAESA dues-paying members and leadership's vigilant monitoring of bills and advisories like this one. If you are not a current member and want to continue to receive helpful information like this, please visit our website @WAESA.org for membership information and our application form for your contribution to our efforts to represent our industry. You may also make a contribution to WAESA at https://squareup.com/market/waesa. Thank You!
---
Statewide Paid Family Leave Policy to Affect Businesses
KENNEWICK, Wash. – A new paid family leave policy will affect Washington state business owners and employees beginning in 2019.
On Wednesday, July 5, Governor Jay Inslee signed SSB 5975, creating a guaranteed paid family leave program for Washington. The bill, which passed the Washington State Legislature with bipartisan support, was the result of extensive negotiations between the labor community, statewide business organizations and lawmakers.
Under the new program:
Employees are offered 12 weeks of medical leave, 12 weeks of family leave, or a cap of 16 total weeks if workers have experiences in both areas within a 12 month period

Women with pregnancy complications can take two additional weeks, for a total of 18 weeks within a 12 month period

Employers and employees both contribute to the program through a payroll tax

Businesses with fewer than 50 employees are exempt from paying premiums. No matter the business size, employees will pay into the system and are eligible to receive benefits

Employees qualify for the program after working 820 hours in four of the five previous quarters

Requirements for employers are in line with the current Federal Family and Medical Leave Act standards
The initial premium rate is set at 0.4 percent of wages beginning on January 1, 2019. Premiums for the Paid Family Leave fund are approximately one-third of the cost of the program and 100 percent funded by the employee. Premiums for the Disability/Medical fund are approximately two-thirds of the cost of the program, with 55 percent paid by the employer and 45 percent paid by the employee. In total, 63 percent of the cost share would fall on employees and 37 percent on employers.
In 2007, the state created a family leave program; however, this program did not achieve its potential due to lack of funding.
The Regional Chamber is continuing to gather information on this policy. As more details become available, we will share the information with our members.
---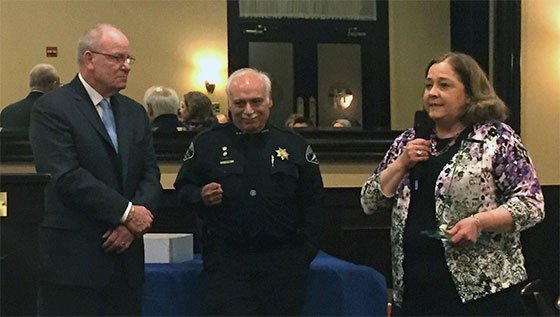 Diane McInelly receives special award for "Excellence in Alarm Program Management" at the Annual WAESA Luncheon (May 2016)
Photo Left to Right: Ron Walters, Director of SIAC; Sheriff Paul Pastor of Pierce County; and Diana McInelly, Pierce County Alarm Program Coordinator
---
National Press Release
Rutgers Study Finds Alarm Systems Are Valuable Crime Fighting Tool
Study Links Burglary Reduction to Increase in Alarms Systems
NEWARK, N.J., Feb. 5 /PRNewswire/ —
A comprehensive study of five years of statistics by researchers at the Rutgers University School of Criminal Justice (SCJ) in Newark found that residential burglar alarm systems decrease crime. While other studies have concluded that most burglars avoid alarm systems, this is the first study to focus on alarm systems while scientifically ruling out other factors that could have impacted the crime rate.
Researchers concentrated on analyzing crime data provided by the Newark Police Department. "Data showed that a steady decrease in burglaries in Newark between 2001 and 2005 coincided with an increase in the number of registered home burglar alarms," said study author Dr. Seungmug (a.k.a. Zech) Lee, who received his doctoral degree from SCJ in 2008 and presently teaches at Ohio Northern University in Ada, Ohio. "The study credits the alarms with the decrease in burglaries and the city's overall crime rate."
In short, the study found that an installed burglar alarm makes a dwelling less attractive to the would-be and active intruders and protects the home without displacing burglaries to nearby homes.
The study also concluded that the deterrent effect of alarms is felt in the community at large. "
Neighborhoods in which burglar alarms were densely installed have fewer incidents of residential burglaries than the neighborhoods with fewer burglar alarms," the study noted.
The study was conducted with the cooperation of the Newark Police Department and reviewed five years of police data. The more than 300-page study was conducted over a two-year period and funded by the non-profit Alarm Industry Research and Educational Foundation (AIREF). SCJ Professors George L. Kelling, Marcus Felson and Ronald V. Clarke and Professor Robert D. McCrie of John Jay College of Criminal Justice in New York were members of the study's Faculty Advisory Committee. Dr. Clarke served as committee chair.
"This type of study assists police departments to effectively deploy their limited resources," said Newark Police Director Garry McCarthy. "The School of Criminal Justice provides valuable insight into the positive impact alarm systems can have in preventing residential burglaries."
"This is the most comprehensive study of its kind that has ever been conducted," said Dr. Lee. "By using sophisticated in-depth research techniques, we were able to eliminate the variables that impact crime rates and focus directly on the impact alarm systems have on residential burglaries.
"The study noted that "technology innovations" have increased the availability of home security systems to middle-class homeowners and that technology has made the systems more dependable. "Computers, printed circuits, digital communicators, and microprocessors have refined monitoring and signaling technology, and modern electronic sensors now include ultrasonic, infrared and microwave devices which were formerly available only in more sophisticated commercial and industrial applications," said Dr. Lee.
Researchers also pointed to an earlier study based on interviews with burglars ("Burglars on the Job 1994," Northeastern University Press) to support their conclusions. That study concluded, "Most offenders, though, wanted to avoid alarms altogether and, upon encountering such devices, abandoned all thought of attacking the dwelling.
"For more information about "The Impact of Home Burglar Alarm Systems on Residential Burglaries" study, please contact Dr. Lee at 419-772-2597, s-lee.8@onu.edu or ezech0725@gmail.com.
MORE ABOUT THE SCHOOL OF CRIMINAL JUSTICE
Rutgers School of Criminal Justice (SCJ) is a major national and international center for scholarly research on all aspects of policing, delinquency, crime, and criminal justice administration. This provides a basis for its educational programs that also fulfill public service obligations by helping to address the needs of criminal justice agencies within the city, state, nation, and world.
Based at Rutgers University in Newark, New Jersey, SCJ's faculty includes some of the top scholars in the field, and the Ph.D. program in criminology has been ranked fourth in the nation by U.S. News & World Report. The doctoral program continues to set the standard for doctoral training, and SCJ's graduating students are highly sought after by universities recruiting new faculty. All of the degree programs offered by SCJ provide classroom as well as research opportunities that prepare students for positions in research, teaching, and criminal justice system management and policymaking. For more information on the school, please visit www.rutgers-newark.rutgers.edu/rscj.
SOURCE: Rutgers University in Newark, Office of Communications